The RAeS Boscombe Down Branch Joe Morrall Award for Young Members
The Joe Morrall Award 2020 – Tuesday 3rd March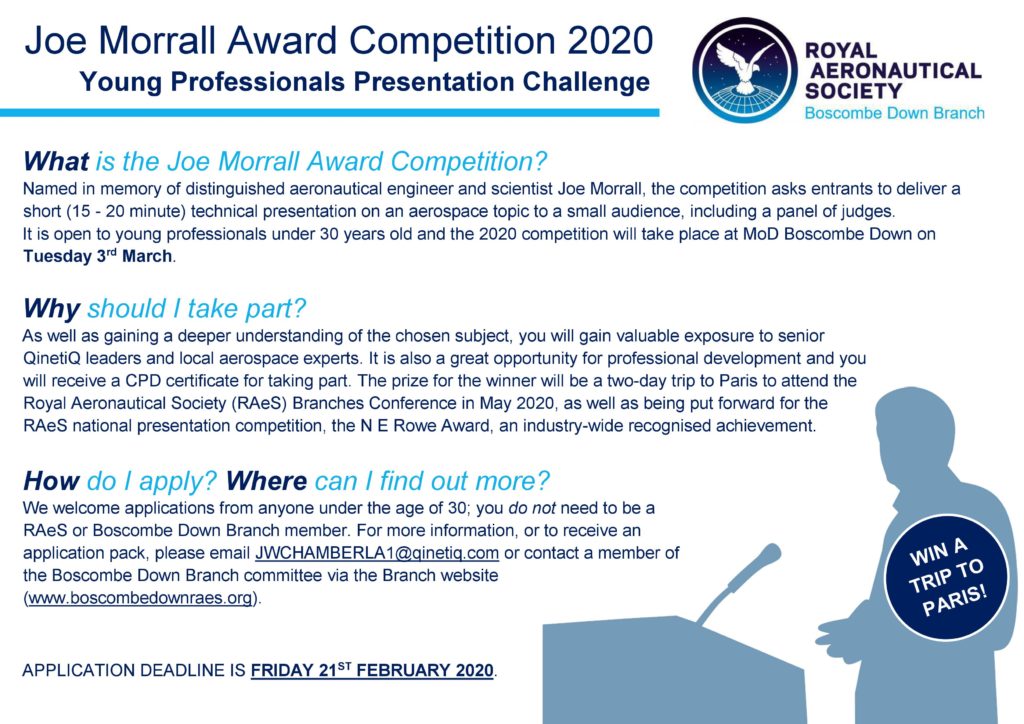 The Royal Aeronautical Society (RAeS) Boscombe Down Branch would like to invite all young people to take part in the 2020 Joe Morrall Award competition. The competition was launched at Boscombe Down in 2010 and is open to all engineers under the age of 30 in the local area (you do not need to be a member of the Boscombe Down Branch, nor an employee at MoD Boscombe Down). The award is named in memory of Joe Morrall, an aeronautical engineer and scientist who enjoyed a long and distinguished career at MoD Boscombe Down. More information about Joe's career and his involvement with the Boscombe Down Branch can be found here.
This is a prestigious award, recognised by both the Boscombe Down Branch and members of the senior leadership team within QinetiQ, some of whom will be present on the day. It is therefore an invaluable opportunity to develop your communication skills and win a great prize. For 2020, this is a two-day trip to the RAeS Branches Conference in Paris on the 15th and 16th May*, featuring lectures by guest speakers and visits to Air France Engineering and Le Bourget Air & Space Museum. The winner of the competition will also be put forward for the Royal Aeronautical Society's N E Rowe Award, which is awarded for the best lecture given across all Branches of the society.
*In the event the competition winner is unable to attend the conference, an equivalent Amazon gift voucher will be awarded instead.
Competition Details
Competition entrants will be judged on a short technical presentation (15 – 20 mins), which is given at the Branch lunchtime lecture on Tuesday 3rd March 2020. The presentations can be devoted to any aspect of aeronautics, space and associated topics and will be followed by a short Q&A, at which a panel of assessors will be present.
Participants will benefit from:
Developing presentation skills with a knowledgeable yet sympathetic audience
Receiving feedback and coaching on presentation techniques from mentors and an experienced panel of judges
Gaining relevant and accountable CPD experience
An excellent opportunity to network with senior Branch members and members of the QinetiQ leadership team
The potential of going on to take part the national N E Rowe Award held in London
The opportunity to win a two-day trip to Paris!
How to Apply
We would love to see as many people take part in this as possible and if you are interested, please do the following:
Email JWCHAMBERLA1@qinetiq.com or contact one of the Branch committee members to receive more information and an application pack
Check our website and social media platforms for any updates:
https://boscombedownraes.org/
All applications must be submitted by Friday 21st February 2020 and the competition will take place on Tuesday 3rd March 2020, with the winner announced and prize awarded on the day. The event is also open for all to attend and support the competition entrants.
Good luck to all who decide to enter, we look forward to hearing your presentations in March!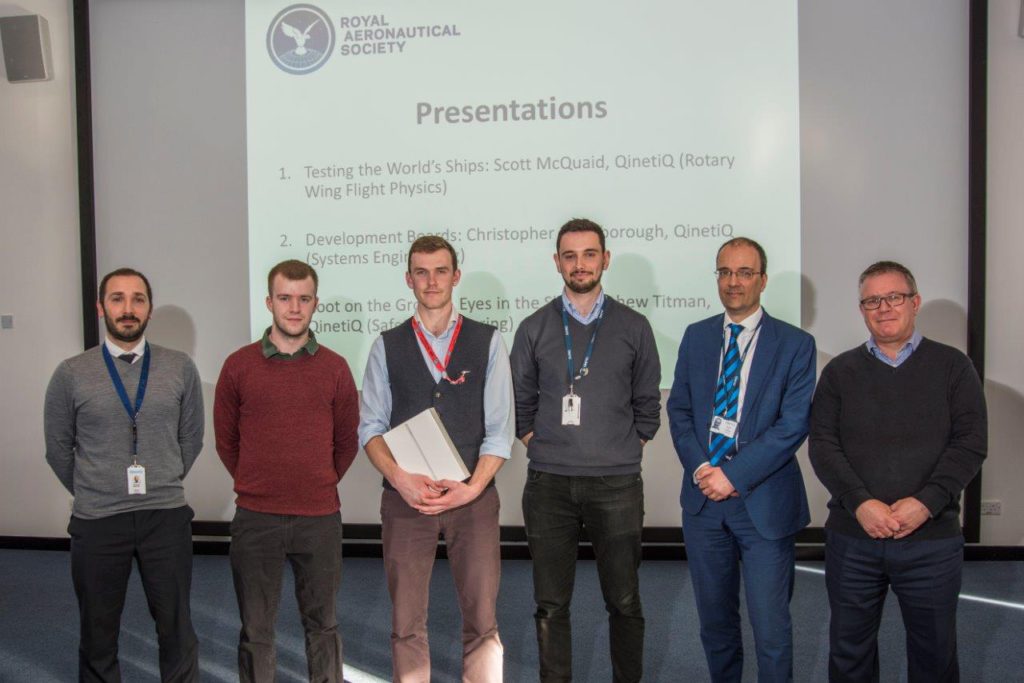 To learn more about last years Joe Morrall Award click here.