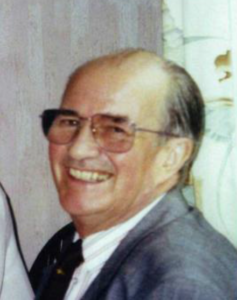 James Cedric Morrall, known to his friends and colleagues always as Joe, who has died aged 83, was a distinguished aeronautical engineer and scientist in Government Service, who in his early career, worked on military aircraft research and development in the Ministry of Defence and later on civil aircraft operations in the Civil Aviation Authority. Over 40 years his responsibilities ranged from running dangerous flight tests on aircraft with unknown handling characteristics in the late 1940s, through project director for the Harrier aircraft in the early 1970s, to advanced technical matters related to changes in the policy for future air traffic management in UK airspace in the 1980s. But above all, his particular strength lay in his management style which combined a personal modesty with an outstanding ability to direct and mould scarce, at times temperamental, highly qualified scientific and technical resources into a most effective, dedicated team.
Joe Morrall was born on 11 August 1924 in Whitby but six months later the family moved to Redditch, Worcestershire, where his father was appointed head of mathematics at Redditch High School, and which, in due course Joe attended. He continued his education at Manchester University graduating with a first class honours degree in mechanical engineering in 1945 and followed with several years' experience as an Engineer Officer in the Fleet Air Arm. He became an enthusiastic cricketer, an interest he pursued vigorously throughout his life.
In 1948 he joined the Royal Aircraft Establishment, Farnborough, as a bright, keen 24 year-old, and was posted to the Flight Test Division of the Aerodynamics Department (better known as Aero Flight) and joined a group concerned with the stability , control and handling of aircraft at low speeds.
The aviation scene at this time was most exciting. The jet engine had arrived and with supersonic speed in level flight now on the horizon, a variety of aircraft shapes were under examination to define the most promising way ahead; very thin straight wings, sweptback wings, delta wings, low tails, high tails, tail-less aircraft to name but a few. Research aircraft were being specially designed to explore the stalling characteristics and take-off and landing performance of new configurations and Joe was in his element in this demanding environment for the next eight years.
Clearly the experimental flying was not without risk for the test pilots teamed with him, but he gained their complete confidence with that probing but measured approach that was to play such an important part in his subsequent career. In particular he ran a series of carefully managed speed reduction flight tests on the sweptback tail-less, de Havilland DH108, and on the Avro 707C Delta, an experimental model for the aircraft which later became the Vulcan bomber.
In the mid-50s Joe sought a new challenge with a transfer to the Blind Landing Experimental Unit (BLEU) at Martlesham Heath in East Anglia. The unit was a small multidisciplinary team specifically tasked to solve the problems of landing aircraft in all weathers, fog in particular, and his low speed aerodynamic experience was invaluable. In 1957 BLEU moved to Thurleigh airfield near Bedford, to take advantage of the superb safety features of the runway and its approaches, for experimental landings under automatic control.
He was now a principal scientific officer and his group worked closely with Calvert, the internationally famous airfield lighting expert at Farnborough, on experimental arrays of runway lighting patterns, he himself contributing a 'total system approach' with a logically reasoned analysis of the 'pilot in the loop' problem. He stressed to airlines, and pilots in particular, the extremely limited part the human pilot could safely play in very low visibility landings with only fleeting glimpses of the runway guidance lights. Whenever fog was forecast Joe had a team on standby to make approaches at Heathrow in so called 'zero-zero' conditions.
At first the Heathrow air traffic controllers didn't think too much of the idea of an aircraft attempting to land at their airfield in such limiting weather but Joe's powers of persuasion, supported by an almost unbelievable film taken from an aircraft making very low visibility automatic landings at Bedford, converted them to the point where BLEU aircraft were eventually welcomed as safe-albeit crewed by 'responsible madmen'.
Serious differences of view existed between the United States Federal Agency (FAA) and BLEU on the way forward for civil aviation all-weather landing and Joe ran an outstandingly successful programme on an FAA DC-7 at Bedford, followed by repeat tests at Atlantic City, that helped persuade the USA authorities at an international airline meeting publicity to support the UK approach which then became the standard operational procedure for civil airline use, and remains so today. After the tests at Bedford, and the warm hospitality of the RAF mess, the FAA pilots returned home to the USA completely convinced about everything British – except cricket!
In 1967 Joe was moved from Bedford to the Aircraft and Armament Experimental Establishment (AAEE) at Boscombe Down as superintendent of performance (S of P) to broaden his experience further.
Broadly speaking Boscombe Down's task is to carry out flight tests on aircraft to prove that they have an acceptable performance and are safe for Service operational use. The most important aircraft under examination at the time of Joe's posting was the Harrier vertical take-off jet and, under his leadership the acceptance tests were successfully completed and the aircraft cleared for introduction into service with the RAF in the 1960s. By that time the United States Marine Corps had ordered a later version, the AV-8A, and the first deliveries of this aircraft, made in 1971, stimulated their interest in a more advanced version, the AV-8B.
With his Boscombe Down experience behind him Joe was admirably suited to move to London in the early 1970s on appointment as MOD Harrier project director. His measured, patient approach to delicate negotiations helped smooth some troubled waters and led to a most successful working arrangement between the two countries for overcoming the many difficulties arising from their different requirements.
A senior United States Marine Corps officer has since commented that, with Joe in post at the London end, the relations between the two Harrier offices were simpler, easier, and more productive than previously.
After a markedly successful few years on Harrier projects, another move brought Joe's now wide experience to bear on the assessment of future major MoD projects and followed in 1978 by a complete change to the Civil Aviation Authority (CAA) with responsibility for the National Air Traffic Services (NATS) research and development programme.
In 1982 he was promoted to be chief scientist CAA with his efforts focused on major projects aimed at immediate improvements in air, and on research programmes to support the NATS long-term plan for changes needed in the air traffic management of the UK airspace. Mode S data link, control sequencing and electronic flight strips fall within these headings.
He was also responsible for a number of important but smaller projects concerned with flight safety in our ever more crowded skies; the successful CHIRP pilot reporting facility developed with the Institution of Aviation Medicine, and Antimisting Kerosene would lie within this heading. A practical 'system approach' was always uppermost in his mind and in discussion his ideas were clearly presented with a devastating logic, often to the delight of his scientific staff.
He retired in 1984 and transferred his many talents and still vital energy to various family, village and voluntary pursuits, at the same time maintaining contact with professional societies at Boscombe Down. For 12 years he was the highly respected treasurer of the Wiltshire branch of the NSPCC and at regular intervals organised absorbing 'talkabout' mornings for local residents with invited guest speakers. A family walk in the New Forest hoping for a rare sighting of a Dartford Warbler kept him sane, he said. And, of course, there was always his love of cricket, which occupied his time during the winter months booking the next season's visits to Lords, followed in the summer by the enduring pleasure of the games themselves. He was a member of the MCC and next seasons games were always booked!
His professional achievements speak for themselves in terms of technical knowledge, practical experience, energy and determination to complete successfully any task he might be given and his integrity and loyalty were beyond question. But above all he was a dedicated 'team man', either as a contributing member of a team or as its leader, directing and moulding scarce highly qualified resources into a most effective unit. He was unwilling ever to accept personal recognition of achievement, modestly claiming that 'he was just one of the team' and gave advice and assistance as warm encouragement in an easy, cheerful, management style.
Morrall was a fellow of the Royal Aeronautical Society and, for a time, served as chairman of the Boscombe Down Branch. He was also a member of the Institute of Mechanical Engineers.
Joe Morrall married, in 1948, Eileen Evans who survives him, with their son Clive and daughter Lynne.
Sir John Charnley, HonFRAeS
First Published: Aerospace Professional March 2008, reproduced with permission.