PLEASE NOTE:
A recording of this lecture is available to watch on our website here:
Recorded Lecture: Experimental Test Pilot by Chris Taylor
Tuesday 30th May 2023 – 17:40 BST
LIVE from MOD Boscombe Down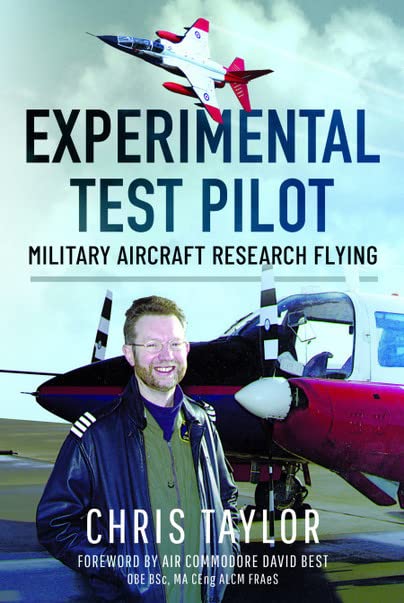 Chris Taylor has enjoyed a very successful career as a Royal Navy officer, helicopter pilot, military/civilian test pilot and flight instructor. He is also an established author, having written and published two books. The first, Test Pilot, documents his experiences from his more recent career in test flying, however his recently-released second book, Experimental Test Pilot, covers his ten-year spell at MOD Boscombe Down and is the subject of this lecture.
Chris will discuss some of the anecdotes that are detailed in Experimental Test Pilot, such as his challenging first year as a flight test instructor (FTI) at the Empire Test Pilots' School (ETPS), which included a flame-out in a Hawk, engine failure on his first flight in a Basset and an accident in the ETPS Scout helicopter. Chris's time at the Experimental Flying Squadron (EFS), which saw him work on a number of cutting-edge research projects including ship-helicopter interface testing, will also be covered, along with his role as an evaluation pilot on types including the Hunter, Jaguar, Andover, HS748 and Comet.
If you would like to read more about Chris's career at Boscombe Down, copies of Experimental Test Pilot will be available to purchase at the lecture.
Speaker:
Chris Taylor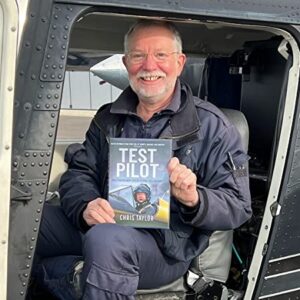 Image: Amazon.co.uk
Taken from: Experimental Test Pilot: Military Aircraft Research Flying: Amazon.co.uk
Having wanted to be a pilot for as long as he can remember, Chris Taylor gained his private pilot's licence at the age of seventeen. He joined the Royal Navy whilst studying for a degree in Electrical Engineering and, after serving as a Navigation Officer on numerous ships, went on to operate Wasp and Lynx helicopters, flying in all weathers from frigates deployed worldwide. After five years instructing, he became an Experimental Test Pilot and flew all manner of experimental aircraft for research and development purposes before returning to the Empire Test Pilots' School as a Flight Test Instructor. Having served at Boscombe Down for ten years, he joined the UK Civil Aviation Authority as an aeroplane and rotorcraft test pilot. With the closure of the CAA's Flight Test Department, he formed Dovetail Aviation Ltd and has continued to test fly a wide variety of aircraft ever since. Chris has flown over four hundred different kinds of aircraft, is a Fellow of the Society of Experimental Test Pilots and is a licensed Category 1 Test Pilot and Flight Test Instructor for both aeroplanes and helicopters, which arguably makes him one of the best qualified and most widely experienced test pilots working today. Additionally, he finds time to be a Helicopter Examiner and Instructor for helicopters, aeroplanes and autogyros when he is not to be found playing with his grandchildren.
Timings (Approximate):
17:00 – Event Opens
17:40 – Introduction & Branch Notices
17:45 – Lecture Presentation
18:45 – Q&A Session
19:00 – Event Closes
Location:
MOD Boscombe Down,
Amesbury,
Salisbury,
SP4 0JF
How to attend
If you would like to attend this lecture, please contact BoscombeDown@aerosociety.com and provide the following information:
– Your title/rank
– Your full name
– Your nationality
Visitors Welcome – you do not need to be a member of the Branch, nor a member of the Royal Aeronautical Society, to attend. Please note, due to the location, any international visitors require IVCO clearance in order to attend. This cannot be arranged by the Branch or MOD Boscombe Down and can take 21 days to process.
Are you pursuing CEng, IEng or EngTech status? Attendance at our lectures will help you meet your CPD requirements!
If you have any comments or questions, please contact BoscombeDown@aerosociety.com.