*PLEASE NOTE THE RECORDING FEATURED AT THIS LECTURE IS NOW AVAILABLE TO LISTEN TO ON OUR WEBSITE HERE*
Thursday 4th May 2023 – 17:30 BST
LIVE from MOD Boscombe Down
Back in the 1970s, historian and presenter of the 'Secret Spitfires' documentary Norman Parker delivered an excellent memorial lecture for Group Captain Harry 'Bruin' Purvis at Boscombe Down. Bruin had a long and distinguished career in aviation, and spent much of it conducting trials and development work for the Royal Aircraft Establishment, Aeroplane and Armament Experimental Establishment and Civil Aviation Section (the latter two at Boscombe Down).
We are therefore delighted to welcome Norman back to Boscombe Down to once again detail the life and career of Bruin Purvis, almost 60 years after Bruin completed his final spell at the site. Following this event, we will also release the original memorial lecture recording on our website.
Speaker:
Norman Parker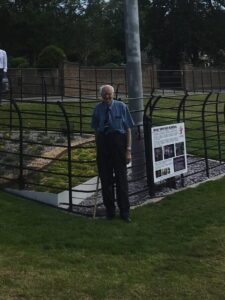 Norman Parker is a former Spitfire engineer and respected historian, who became synonymous with the story of the secret Spitfires assembled in Salisbury, Trowbridge and Reading during the Second World War. Norman was the central character in the 2016 feature-length documentary 'The Secret Spitfires' and presented a screening of the film to the Boscombe Down Branch in April 2022. Norman is also a current member of the Branch.
Timings (Approximate):
17:15 – Event Opens
17:30 – Introduction & Branch Notices
17:40 – Lecture Presentation
18:30 – Q&A Session
18:45 – Event Closes
Location:
MOD Boscombe Down,
Amesbury,
Salisbury,
SP4 0JF
How to attend
If you would like to attend this lecture, please contact BoscombeDown@aerosociety.com and provide the following information:
– Your title/rank
– Your full name
– Your nationality
Visitors Welcome – you do not need to be a member of the Branch, nor a member of the Royal Aeronautical Society, to attend. Please note, due to the location, any international visitors require IVCO clearance in order to attend. This cannot be arranged by the Branch or MOD Boscombe Down and can take 21 days to process.
Are you pursuing CEng, IEng or EngTech status? Attendance at our lectures will help you meet your CPD requirements!
If you have any comments or questions, please contact BoscombeDown@aerosociety.com.