The RAeS Boscombe Down Branch invites you to attend the following online lecture: Lion Air Flight JT610/Boeing 737 Max 8 – A Loss of Control in Flight Accident Case Study by Dr Mike Bromfield, CEng, CErg/HF, PhD, FRAeS, SFTE(M) & Captain Nils Jamieson CEng, MEng, ACGI, MRAeS.
Tuesday 5th April 2022 – 17:30 BST
Synopsis:
Lion Air Flight JT610/Boeing 737 Max 8 – A Loss of Control in Flight Accident Case Study
Lion Air JT610 departed Soekarno-Hatta International Airport, Jakarta Indonesia for Depati Amir Airport, Pangkal Pinang on 29th October 2018 at 6:20 AM local time. As the aircraft passed through 2,000 ft during initial climb-out, the nose suddenly pitched downwards and the crew attempted recovery. At 6:32 AM, the aircraft crashed into the sea with an airspeed in excess of 400 knots. All 189 persons on board lost their lives.
This fatal accident was a loss of control in flight (LOC-I) or "unintended deviation from flightpath". LOC-I has been the number one category of fatal accident type over the last 60 years. Aircraft technology has seen significant development over this period with a corresponding reduction in fatal accident rate, yet LOC-I still persists. With technological advancements how could an accident like this have happened?. This lecture will explore contributory and causal factors and what is proposed to prevent future occurrences.
Biography: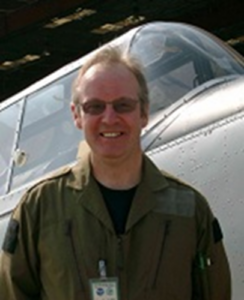 Dr Mike Bromfield, CEng, CErg/HF, PhD, FRAeS, SFTE(M)
Associate Professor/Flight Safety Researcher/ Deputy Aerospace Programme Director, University of Birmingham
Mike Bromfield is an Associate Professor in Aerospace/Flight Safety Researcher and Deputy Aerospace Programme Director at the University of Birmingham. He is a Chartered Engineer and Chartered Ergonomics/Human Factors Specialist affording insight into complex 'human in the loop' systems challenges. He is a Fellow of the Royal Aeronautical Society (RAeS), Member of Chartered Institute of Ergonomics & Human Factors (CIEHF) and Member of the International Society of Air Safety Investigators. He received his PhD in Flight Safety/Flying Qualities from Brunel University and completed his BSc in Aeronautical Engineering at the University of Bath in combination with a technologist apprenticeship at Westland Helicopters Limited (now Leonardo), UK. He divides his time between research, consultancy and teaching activities and specialises in human factors, flight dynamics, flight testing, flight simulation/modelling and VR. His research interests include Loss of Control Inflight (LOC-I) and future aerospace vehicle design (including eVTOLS & UAVs). He has initiated research collaborations with national, international, industry and academic partners including NASA, UBER Air, the Breitling (Red Bull) Air Race Team, UK DfT, Norwegian Safety Investigation Authority and Georgia Tech(USA), UNSW(Australia), Purdue (USA) and USP (Brazil). In 2014, Mike received the LAA Pete Clarke Award for contribution to aviation safety. In the same year he was (jointly) awarded the RAeS Bronze Award for 'Best Written Journal Paper'. He is a private pilot and a trained flight test engineer (National Test Pilot School. Mojave, USA). He plays an active role in a number of National, European and International technical and safety committees including UKFSC, NASA TVF, AIAA and EASA. He has over 30 publications.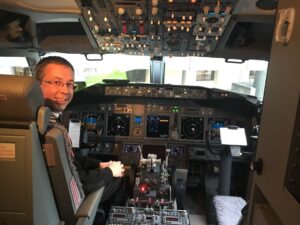 Captain Nils Jamieson CEng, MEng, ACGI, MRAeS
737-800 Fleet Technical Pilot, Jet2.com & Regional Safety Officer, GASCo
Nils Jamieson originally learnt to fly gliders in 1989 at age 14, with the Wolds Gliding Club at Pocklington. Moving on to gain a PPL(A) by 19, he intended to pursue a career in the airlines after finishing school. Eyesight rules at the time prevented this, leading to a career in Mechanical Engineering and lots of spare time to fly in the intervening 13 years, as well as being a part-time Flight Information Service Officer at Sywell Aerodrome. Happily, the eyesight rules changed in 2003 and Nils finally made it to the airlines in 2007, after a year of working as a part-time flying instructor. Still instructing part-time (mainly in Tiger Moths), he is currently a 737 Training Captain and the 737-800 Fleet Technical Pilot for Jet2.com, a role which currently includes the test and delivery of 34 new jets from Boeing to the UK. The engineering knowledge continues to be useful too – Nils is an independent Aviation Quality consultant and the proud owner of a 1946 Aeronca Chief. A GASCo volunteer RSO since 2009, Nils has presented over 100 Safety Evenings and other GA seminars all over the UK, Ireland, USA and Australia. He is passionate about flight safety and those who share his love of the skies.
Venue: Online (Microsoft Teams Live)
17:15 – Event Opens (allowing time to resolve any technical issues)
17:30 – Lecture Starts
How to Watch:
This lecture event has concluded and is available to watch on our website here.
Are you pursuing CEng, IEng or EngTech status? Attendance at our lectures will help you meet your CPD requirements!
If you have any comments or questions, please contact BoscombeDown@aerosociety.com.