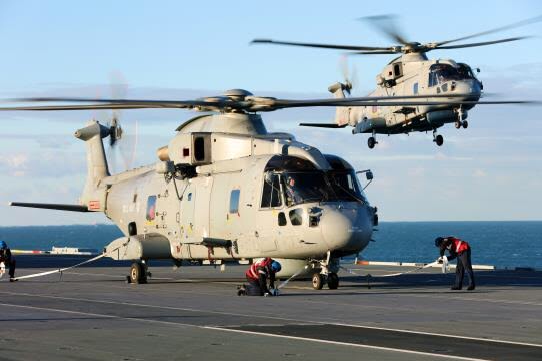 Synopsis
Since the first Royal Aircraft Establishment Rotary Wing Flight Trial to RFA Fort Duquesne in 1951, the Test and Evaluation of Naval aviation has gone from strength to strength. Ship Air Integration (SAI) testing has become a necessity for all military vessels and aircraft internationally. The Ship-Helicopter Operating Limitations (SHOL) of each combination of aircraft and ship must be understood to maintain capability and ensure safety; although, they can prove expensive activities to conduct.

Since undertaking trials on RFA Fort Duquesne, SAI test and analysis techniques and technologies have significantly advanced to improve the quality of results leading to improved safety as well as a relative reduction in trial costs. Having successfully completed the Air Test and Evaluation Centre's largest ever SHOL trial on board the HMS Queen Elizabeth Aircraft Carrier, QinetiQ employees James Baseley and Scott McQuaid will explain the modern day methods of the planning and conduct of SAI, as well as where things may be heading in the future.


Biography
James Baseley joined QinetiQ as a Flight Physics Engineer in 2015. Since then he has worked on a number of trials and platforms. These have included Airbus A400M Defensive Aids trials in Seville, the Eurofighter Typhoon Centurion programme (including a secondment with BAE Systems), and Rotary Wing programmes such as the Queen Elizabeth Carrier trials and Merlin Crowsnest. James is currently working to evaluate a number of different simulators used for flight training.

Scott McQuaid joined QinetiQ as a Flight Physics engineer in 2017. Finding himself in the thick of trials work almost instantly, Scott went straight on board the TIDE Class support vessels to carry out Air Flow Air Pattern trials that must be conducted before any aviation is conducted on board a ship. Following this, Scott took part in the Queen Elizabeth Carrier trials and has rewritten the code used to evaluate the Air Flow Air Pattern effects of a vessel. Armed with this code, he has gone on to carry out trials on a number of different vessels including those of the Royal Navy of Oman.


Venue
Lecture Hall
MOD Boscombe Down
Amesbury
Wiltshire
SP4 0JF

17:00 – Tea and Coffee available
17:15 – Lecture Starts

Are you pursuing CEng, IEng or EngTech status? Attendance at our lectures will help you meet your CPD requirements, and certificates of attendance will be provided!


Visitors Welcome – you do not need to be a member of the Branch, nor a member of the Royal Aeronautical Society, to attend. For further details, click here.

External members or members without a security pass will need to declare their intention to attend this lecture through contacting us at
boscombedown@aerosociety.com
by Monday prior to the lecture.